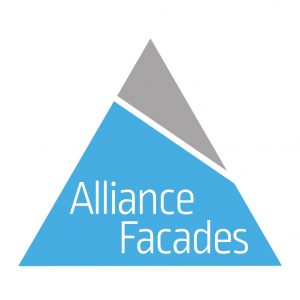 Alliance Facade Services Ltd is a business operating throughout the UK which is dedicated to the provision of specialist services to the Glazing, Fenestration, Curtain Walling and Cladding sectors. From Pre-Construction Consultancy to Project Management and system Installation, we make delivering exceptional facade schemes as easy and economical as possible. Founded by experienced facade industry professionals, Alliance Facade Services is the partner of choice for Specialist Building Envelope Contractors, Main Contractors and Developers alike.

FACADE SYSTEM INSTALLATION
At the core of our business is our specialist Cladding and Curtain Wall installation service. Headed up by our Operations Director, our skilled supervisors and operatives are experienced at installing many different cladding, curtain wall and glazed systems on large scale commercial, residential and mixed-use projects. Our management team have delivered many challenging facade projects across London and as far north as Manchester, incorporating systems such as;
Aluminium Stick built curtain walling from industry leading suppliers such as Kawneer, Schueco, Wicona (SAPA), Metal Technology, Reynaers, Senior Architectural Systems and more
Structurally Glazed curtain walling
Unitised / semi-unitised curtain walling and cladding elements
Aluminium rooflights
Aluminium windows and doors
High Pressure Laminate Cladding systems such as Trespa, Tectiva, Cembrit and more
Aluminium Rainscreen Cladding systems such Sotech, Alucobond, Vitrabond and more
Composite insulating cladding panel systems such as Kingspan KS, Rockpanel, Europanel and more
Decorative aluminium pressings, cappings and copings
Glass and Aluminium balustrading and balconies
Architectural solar shading and brise soleil
Glass canopies and walkways
Structural Framing Systems and cement (CP) board such as Metsec
As we are committed to working safely, all of our operatives are trained and experienced and hold valid CSCS cards relevant to their trade. Many also hold additional technical qualifications, such as NVQs or system specific qualifications like Kawneer's Installation Certificate initiative. We strive to keep pace with highest standards required by our customers and ensure that our Supervisors are First Aid trained and hold the CITB accredited SSSTS qualification as a minimum, whilst our Site and Project Managers hold SMSTS along with any other relevant training. When required, our operatives will also be trained in the use of other specialised equipment such as Vacuum Glass lifting, PASMA, CPCS Slinger-signaller, IPAF, Working at Height and more.
FACADE PROJECT MANAGEMENT
Whilst our Project Management service is usually undertaken as part of a wider contract for Installation of the facade, we can provide on a standalone basis if this is suits your needs. Our Project Managers and Site Managers are vastly experienced in all aspects of the building envelope and have worked with and for some of the leading Specialist Facade Contractors in the UK. With numerous managerial level qualifications and extensive experience, you can rest assured that we can take a project from early design stage, safely through construction phase and to completion.
Project Management is a wide reaching role that occurs during various, sometimes overlapping phases of a project. If you choose us to provide your Project Management services, our dedicated Project Manager (PM) will be involved during the early planning phase to completion. Our PM will then be heavily involved in the Design phase to ensure everything is progressing as it should be. As well as completing detailed construction programmes throughout the project, as the onsite commencement date nears, Risk Assessments and Method Statements will be completed with the assistance of our SMSTS qualified Site Managers. These will be reviewed and updated when necessary. As the onsite works progress, a strict pre-agreed Quality Control procedure will be put in place with all critical work elements being signed off before moving to the next phase. As completion nears and passes, our PM and SMs will be committed to closing out your project as soon as possible without defects. Our Project Management service is normally a part of a wider contract for Installation but can be provided on a consultancy basis as required.
FACADE COST AND CONSTRUCTION CONSULTANCY
Our Pre-Construction Consultancy service calls on the wide-ranging experience of our managers who have delivered multi-million-pound Curtain Walling, Glazing and Cladding projects across the UK. All of this means that your facade scheme gets the best possible advice from start to finish. We can provide advice on a wide range of matters, such as which systems to use, provide a detailed facade programme or complete project specific Risk Assessments & Method Statements. We also have extensive knowledge within our management team of facade expenditure and as such, can provide budget, value engineering and cost consultancy advice.
FACADE MAINTENANCE
To get the maximum performance and longevity from your facade, it is highly recommended that supplier guidelines are followed throughout the service life of your building. By implementing a regular maintenance regime, you will undoubtedly reduce the whole-life cost of your windows, doors or curtain wall / cladding system. Regular inspections are the key to a longer lasting, better performing and more aesthetically please facade.
We can carry out planned, preventative or reactive maintenance on your Curtain Wall, Windows & Doors or Cladding schemes. We would be happy to review your requirements and come up with a bespoke maintenance solution that suits your needs.
FACADE DEFECT INVESTIGATION & RESOLUTION
Perhaps as a result of poor or no maintenance being carried out, it is an unfortunate fact that defects occur from time to time. Most commonly, defects are usually as a result of an ageing system, but there are a significant number of issues that can be caused by inferior design or less than desirable workmanship.
We pride ourselves on being able to quickly identify the root causes of any defects your facade maybe suffering. Throughout our management team and supply chain, we have extensive knowledge of leading Curtain Wall, Window & Door and Cladding systems. Our aim is always to achieve the solution that has the least impact on your building with the most longevity going forward.
IN SUMMARY
By providing an experienced team of passionate facade professionals, we are certain to be the partner of choice when it comes to delivering your high quality facade scheme. Our principles of trust, reliability and cooperation will prove to be what sets us apart from others. Whether you want to engage us on a consultancy basis or to provide project management and installation services, we are sure that you will quickly see the benefits of our refreshing collaborative approach to all things facades.
Please visit us at www.alliancefacades.com or email info@alliancefacades.com for more information on how we can assist you.